I'd like to dispel an ancient myth and establish the truth -- Nala's eyes are light green and (attention) did not change color during the film!

Here is the eye color which we see in scenes The Bath and at the end, atop Pride Rock.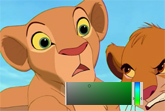 click on images to see a high-resolution version (opens in a new window)
Next, the jungle, and the hunt on Pumbaa. Are they grey or light blue? Actually, neither. The fact is, that evening lighting is placed on all of the colors here. Let's remove it.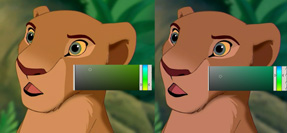 Also, check that pencil outline on the eye, it seems didn't get affected by "evening lighting filter" that much, and still has a rich green color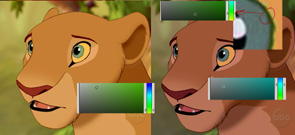 And CYFTLT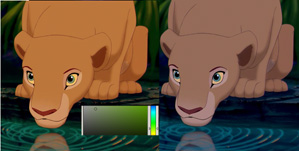 And here's the night scene.
Blue? Why don't you say that the leaves in the background are blue as well? No, it's just because of the night. Let's convert it into day --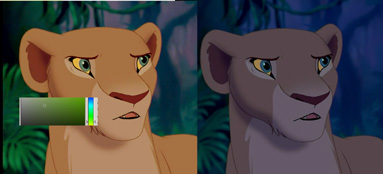 So there... This all means one thing - that the creators of TLK can work with lighting. It may be questioned whether the lighting technique they used is correct or not in case of cartoon graphics, but there is a logic behind it, not a mistake. If you are wondering what color should you use in your artwork, see the color below--


, code #5A7E56

PS: In TLK-2: Simba's Pride Nala's eyes are deep-blue all the time, so rich that even a night scene from TLK can't come close to it.. This is out of consideration, a known mistake. Do not repeat it please and do not ask me why they've made them blue, because the answer will be "a bugfest cheapquell".

PPS: About my day-evening-night conversions.. You must understand that i didn't try to match the standart colors, only to show the thing. And matching would be impossible, there is such thing as self-consuming colors(losing saturation), some times you can't turn back an applied lighting filter without a particular tuning of each color. Do not use the converted pictures to pick your colors for drawing, use the daylight scenes.